Panicle EIC only 2023 IWAG awardee from ASU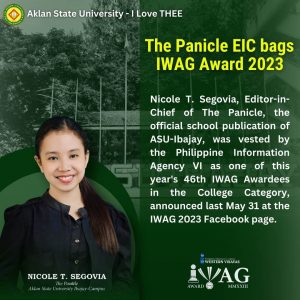 The Editor-in-Chief of The Panicle, the official school publication of ASU-Ibajay, was bestowed the IWAG Award by the Philippine Information Agency VI, announced May 31 on the IWAG 2023 Facebook page.
Nicole T. Segovia, a graduating student at ASU-Ibajay, was the sole IWAG awardee for college from Aklan State University and the entire Aklan this year.
"I wasn't optimistic about winning for a number of reasons," Segovia shared.
Segovia claimed that she had difficulty balancing her final demonstration teaching and the necessary preparations for the said recognition as the province experienced intermittent power outages for days.
She expressed gratitude to her advisers and teacher consultant, asserting that they have "installed their flashes of brilliance" in her.
"As I leave the familiar walls, the integrity I uphold as a journalist will remain: to let my pen immortalize the seed," Segovia affirmed as she dedicated her victory to The Panicle and to the ASU community.
The PIA 6 has designed the IWAG Award since 1977 as a way to honor college journalists who excel in promoting development communication and other relevant fields as well as academic achievement.
Overall, there were 41 awardees across Western Visayas, 22 from senior high school and 19 from college.
By Edgar M. Prado | Information Officer, ASU-Ibajay
Layout by Angeline Maribojo | The Panicle