Oh God, bless my Alma Mater,
ASU, beloved;
To Thee O Lord, I pray.
ASU, I love thee,
Thy solemn pledge, I vow eternally;
Thy hallowed halls, thy verdant fields
Are treasures in my memory.
Upon this land forever reigns
My Alma Mater, queen divine--
Shine on, Shine on,
Thy gift of heaven
Shine… Shine on,
(Finale) O God, bless my Alma Mater…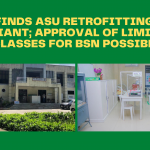 The Commission on Higher Education Regional Office 6 found the retrofitting preparations of the Aklan State University- BS Nursing Program compliant based on the provisions
Read More »
Conference-Workshop on Harmonizing Monitoring and Reporting of SUC Physical Performance This activity was conducted by the Department of Budget and Management (DBM) VI in partnership
Read More »
COPYRIGHT © 2021 Aklan State University. ALL RIGHTS RESERVED.