READ & LOOK: ASU hails new personnel
Dr. Emily M. Arangote, SUC President III of Aklan State University, swore into office the newly-hired and promoted personnel of the University.
The Oath-Taking and Orientation Ceremony was held at the ASU Conference Hall, Monday, April 18, 2022.
ASU-Banga Campus Director Dr. Michael T. Ibisate, in his Welcome Remarks, asked the new personnel to "serve the university with all that you have, and go the extra mile, over and above what is asked of you, just like what the men and women have done before you."
Dr. Arangote exhorted the new personnel to work hard to row the boat together towards one direction.
Thirteen new Instructor I and four non-teaching personnel took their oath. They are:
Mr. RAYMOND P. ELITIONG Executive Assistant III
Ms. JALE ANN PEARL D. YECLA Instructor I
Ms. SHARMAINE L. LAVA Instructor I
Ms. ALTEA S. ROMERO Instructor I
Mr. VON MERRILL F. YSUNZA Instructor I
Ms. JODIE BEATRIZ S. ZAMORA Instructor I
Ms. LEAH ROSE T. TINDOG Instructor I
Mr. RALPH V. BONIFACIO Instructor I
Mr. JUN GREG R. MABOLO Instructor I
Ms. MA. NADINE R. GUILLEN Instructor I
Mr. JOSHUA A. BIDES Instructor I
Mr. WILFRED F. PALLER Instructor I
Ms. WINEFERL P. NOBLEZA Instructor I
Mr. CHURCHILL F. ISMAEL Instructor I
Mr. RITCHE L. MONTUYA Admin Aide III (Utility Worker II)
Ms. LIZA T. NAVARRA Budgeting Assistant I
Ms. MELIZA ANN Y. RETINIO Clerk I
An Orientation on Academic Policies and Administrative ensued after the oath-taking, discussed by Dr. Arlene B. Dela Cruz, VP for Academic Affairs, and Dr. Cecile O. Legaspi, VP for Administration, respectively.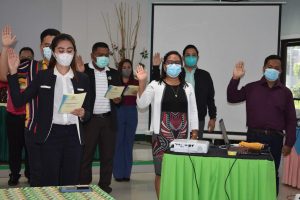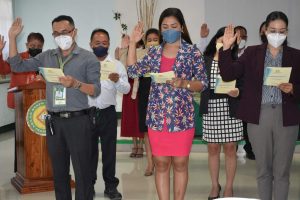 By Jonell S. Gregorio | Information Officer, ASU-Banga