ASU-Ibajay conducts a two-week long training on the adoption of CHED course prototype thru its Learning Management System among its teaching personnel in the campus. The training commenced on March 9, 2022.
A total of 56 teaching personnel were trained on how to utilize the CHED prototype for its Learning Management System and were equipped with different competencies in designing courses for the current semester, such as, uploading learning materials, enrolling students, creating discussion forums, etc.
During the closing ceremony on March 21, participants expressed their gratitude for the continued commitment of the University to flexible learning and academic excellence amidst the pandemic.
Participants are positive that the training has enabled them to create a more meaningful and interactive learning journey with their students.
The said CHED course prototype was introduced during a PH-Flexible Learning Foundations Virtual Conference, as organized by CHED in partnership with the Texas International Education Consortium (TIEC), as participated by five (5) faculty grantees from different ASU campuses. This training is part of the re-entry plan of two (2) faculty grantees from ASU-Ibajay, namely, Prof. Reimar Tingga and Mrs. Chriszela Sabandal.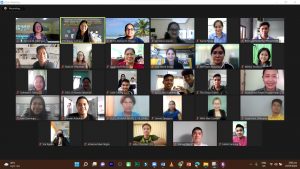 By Chriszela R. Sabandal | Information Officer, ASU-Ibajay