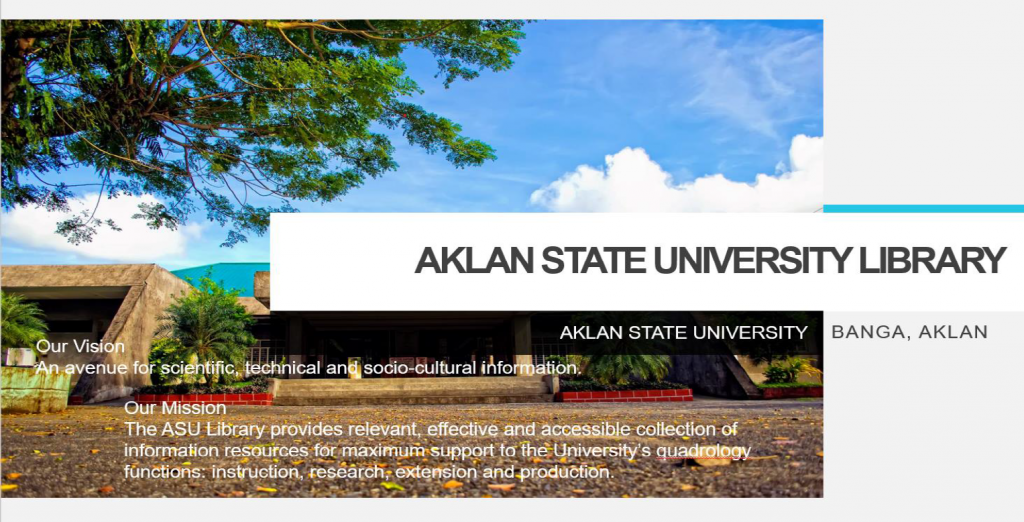 BLISS ROLDAN
Library Director

EDERLINA MATEO
College Librarian III – Banga Campus

FAYE SARMIENTO
College Librarian II – New Washington Campus

ROSEBEL REYES
College Librarian I – Kalibo Campus

PRINCESS DAVID
College Librarian I – Ibajay Campus
JOY MIRANDA
College Librarian – Kalibo Campus
MARITES MACAWILI
Administrative Aide VI – Banga Campus
JULIE REMANESES
Administrative Aide – Kalibo Campus
| | | |
| --- | --- | --- |
| SECTIONS | Monday to Saturday | 7:00 A.M. – 5:00 P.M. |
| OFFICE | Monday to Friday | 8:00 A.M. – 5:00 P.M. |
| TECHNICAL SERVICES | Monday to Friday | 8:00 A.M. – 5:00 P.M. |
BORROWING PRIVILEGE
Undergraduate Students
Two (2) books for three (3) days
Overnight for reserve books
Graduate Students
Two (2) graduate studies collection for one (1) week; and
Three (3) days for circulating materials
Overnight for reserve booksLOAN PERIODS
LOAN PERIODS
Books for General Circulation – Three (3) days
Fiction – One (1) week
Reserve – Overnight use
Graduate Studies – One (1) week
FEES AND FINES
Fines and fees are applicable to all students including faculty and personnel.
A fine of P 5.00 is charged for overdue materials excluding weekends and holidays.
A fine of P 5.00 per hour is charged for reserve books.
Unsettled fines within a semester will be subject to suspension of library privileges.
LOST MATERIALS
All materials loaned by any library user shall be reported immediately to the section from where it was borrowed. Lost materials must be settled within a month reported.
ACADEMIC CLEARANCE
Academic clearance is signed only after all unpaid accounts, losses and unreturned books and other accountabilities are settled.
LUNCHTIME LIBRARY USE
You may come to the library during lunch time to avail services. Please eat before you come, food is not allowed in the library.
COMPUTER, INTERNET, WIFI USE
Free access to computers, internet and Wi-Fi for an hour and may only be used for school related work.
ONLINE PUBLIC ACCESS CATAGALOG

SERVICES IN THE NEW NORMAL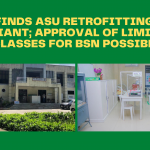 The Commission on Higher Education Regional Office 6 found the retrofitting preparations of the Aklan State University- BS Nursing Program compliant based on the provisions
Read More »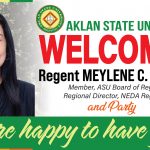 LOOK: Arrival of RD Meylene C. Rosales of NEDA Region VI and party at ASU Banga May 5, 2022
Read More »
COPYRIGHT © 2021 Aklan State University. ALL RIGHTS RESERVED.