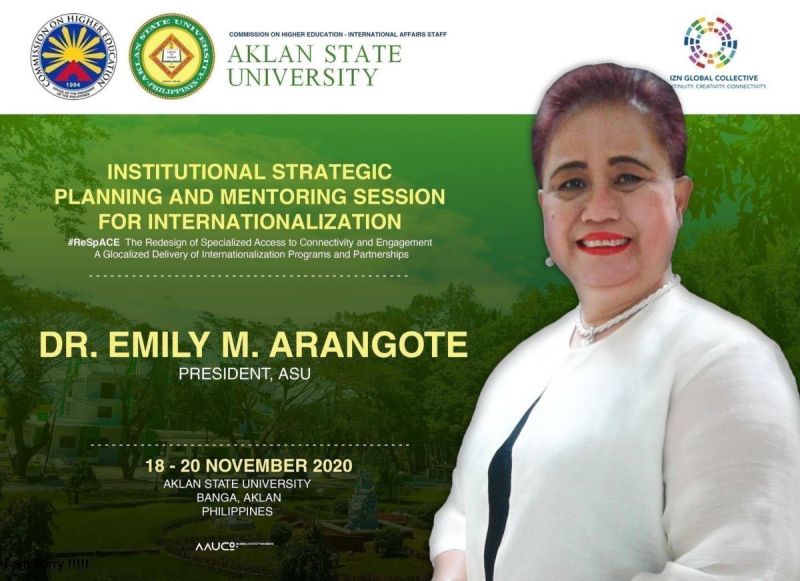 ASU Revs Up Internationalization
The new normal has enabled HEIs to adapt, redefine, and redesign the academe and Aklan State University (ASU) sees this as an opportunity to accelerate and boost its internationalization efforts.

ASU in collaboration with the Commission on Higher Education – International Affairs Staff (CHED-IAS) in partnership with IZN Global Collective conducted a three-day Institutional Strategic Planning and Mentoring Session for Internationalization via Zoom on November 18-20, 2020.

With the theme, #ReSpACE: The Redesign of Specialized Access to Connectivity and Engagement: A Glocalized Delivery of Internationalization Partnerships and Programs, the webinar was participated in by the ASU community and International Partners from premier universities and industries: Common Purpose Asia Pacific, Singapore, Nanyang Technological University, Singapore; Tourism English Center in Vietnam; Forman Christian College (A Chartered University), Lahore, Pakistan; Higher Education Leadership Academy (AKEPT), Malaysia; Kasetsart University, Thailand, King Mungkut's University Technology of Thonburi, Thailand; Institut Teknologi (ITS) Sepuluh-Nopember, Surabaya, Indonesia; University of Tsukuba, Japan; France, Camosun College, Victoria, British Columbia, Canada, University of Hong Kong, Hong Kong and our very own from the Philippines, De La Salle-Lipa, Tarlac Agricultural University, and the University of St. La Salle-Bacolod. The event was in consonance with ASU's mandate, stipulated in RA 9055, to develop consortia and other forms of linkages.

The IZN mentoring session and partnership expansion was formally opened by ASU President, Dr. Emily M. Arangote, who laid the groundworks of the institution's IZN Agenda with the vision of making ASU as a leading university in the Asia-Pacific Region. She emphasized the role of all stakeholders in the mission of realizing her Developmental Goals for ASU in a 12-point agenda, ASU I LOVE THEE.

International Partners generously shared their knowledge and expertise in areas of Academic Exchanges and Mobility, Agriculture, Innovation, Development Planning, Future City and University, Food and Water Security and Jobs, Virtual Internships and Exposures, Research and Community Extension, Technology and Sustainability among others.

While speakers expressed their commitment to assist ASU as it endeavors to foray into the global sphere to broaden its service to Aklanons, the new pool of global partners also are also in joyful anticipation of government's opening of borders and lifting of travel ban to visit the University and culturally see the beauty of Panay and strengthen the experience of meaningful partnership with ASU.

As exquisite as nature has imparted to its landmarks and people, from the best beaches well-known globally for its sugar fine white sand, sapphire waters, amazing coral reefs and abundant sea shells, to its sons and daughters and beautiful community from 17 vibrant municipalities, Aklan will always be the Divine reflection of the richness of natural resources, fertile agricultural land, caves, falls, springs, eco-tourism sites, valleys, long-winding coastline and festivals.

At the heart of this magnificent gift of nature, Aklan State University stands proudly, while waving its banner high, has proven its mark to the world from edu-tourism to highly competitive and quality education and strong linkages and partnerships around the globe. In gratitude, ASU will continue to shine like one beautiful emerald during and beyond pandemic: ASU IZN at its best. CREDITS: ASU I Love Thee...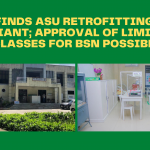 The Commission on Higher Education Regional Office 6 found the retrofitting preparations of the Aklan State University- BS Nursing Program compliant based on the provisions
Read More »
LIST OF MEMORANDUM OF AGREEMENT/MEMORANDUM OF UNDERSTANDING
| Partner Institution | Country | Nature of Partnership | Activities Conducted |
| --- | --- | --- | --- |
| Osaka International University | | | |
| Daewon University College | | | |
| The University of Hawai'I at Hilo | | | |
| Royal Institute | | | |
| Daffodil International University | | | |
| Nanhua University | | | |
| Agreement Among Universities of IndonesiaMalaysia-PhilippinesVietnam-Thailand (SEATeacher Projec | | | |
| Szent Istvan University | | | |
| University of Veterinary Medicine Budapest | | | |
| Dongseo University | | | |
| Can Tho University | | | |
| Agrostudies The International Centre for Agricultural Studies in Israel Ltd. | | | |
| Daegu University | | | |
| Nanyang Technological University | | | |
| Tarlac Agricultural University | | | |
| KadaKareer PH | | | |
| CHED (Fostering World Class Philippine Universities Project) | | | |
| International Cultural Communication Center Malaysia (ICCCM) | | | |
| Karpagam Academy of Higher Education (KAHE) | | | |
| Institute of Industry and Academic Research Incorporated (IIARI) | | | |
| Iloilo Science and Technology University (ISAT-U) | | | |
| MEDIPASS Co. Ltd. | | | |
The Aklan State Unviersity is in need of the following Contract of Service Instructor for the College of Teacher Education, ASU, Banga, Aklan: 1- Bachelor
COPYRIGHT © 2021 Aklan State University. ALL RIGHTS RESERVED.