Research Centers
Natural Fibers Technology Resource Center (NFTRC)
Regional Seed Research Center (RSRC)
Regional Center for Climate Change (RCCC)
Aklan Research Center for Coastal Studies (ARCCS)
Akeanon Studies Center for Heritage, Diversity and Educational Innovation (ASCHDEI)
Aklan Research Center for Sustainable Tourism (ARCST)
Aklan Human Kinetics, Sports, and Wellness Research Center (AHKSWeRC)
---
Natural Fibers Technology Resource Center (NFTRC)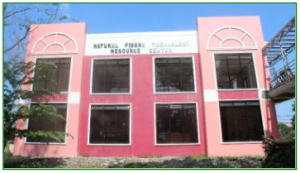 ASU became known or noted for the tissue-culture of Aklan Piña which was one of the research outputs/or technology developed by the researchers in this particular commodity. With the sustained and/or continued studies undertaken by faculty researchers for Aklan Piña (Red Spanish Pineapple), the DOST RO VI had recognized this effort and extended a fund support in the amount of Php 630,000.00 which was used in establishing the Natural Fibers Technology Resource Center (NFTRC), located near the main gate of the University. The amount used to construct the facility was Php 3,500,000.00 sourced out from the GAA of fiscal year 2013. Another example of research efforts that contributed to the development of the University is the research granted by CHED to ASU which is being implemented by CAFES. The amount of Php 4,000,000.00 was used in the implementation of the research project titled "R&D for Natural Fibers in the Province of Aklan".  Part of the research was used in the purchase of up to date research instruments and equipment which would eventually redound to institutional development particularly in the development of culture of excellence in research at ASU.
---
REGIONAL SEED RESEARCH CENTER (RSRC)
The Center commits to look after biodiversity research of climate resilient indigenous plants, screen varieties, distribute high quality seeds after test trials, and mass propagate planting materials thru tissue culture and other accepted technologies, and produce vegetative propagated fruit trees or cloned stocks. It will provide advice on adoption of innovations by farmers and seek partnerships with other agencies in the furtherance of its advocacy for sustainable development of people in communities where the beneficiaries of the Center live.
---
REGIONAL CENTER FOR CLIMATE CHANGE (RCCC)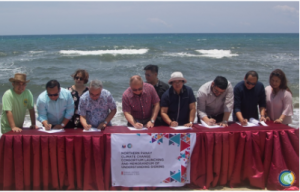 The Regional Center for Climate Change (RCCC) was established by virtue of ASU Board of Regents Resolution No. 42-44 series of 2011 done on its 44th Regular Board Meeting on November 22, 2011. The Center is a strategy for modelling a convergence initiative between National Government Agencies (NGS), Non-Government Organizations (NGO) and the Aklan State University (ASU). Designed to make academic institutions and partner entities promote actions to reduce physical, economic, and social vulnerability to disasters, and adapt to changing climatic environment. Pursued to mainstream Climate Change Adaptation (CCA) and Disaster Risk Reduction (DRR) in various phases of institutional development plans and poverty reduction strategies. It is a "knowledge and capacity development" hub that serves as a data repository of evidence-based knowledge and practices in CCA & DRR that can be replicated geographically.
---
AKLAN RESEARCH CENTER FOR COASTAL STUDIES (ARCCS)

The Aklan Research Center for Coastal Studies (ARCCS) is a Board of Regents (BOR) – approved Research Center established in 2016 to serve as a research hub in ASU for CRM technologies. The main goal of ARCCS is to increase research capability and productivity of the faculty, staff, and students of ASU-CFMS through iterative training, as well as serve as a platform to enhance academe-industry-community linkages. To partly achieve these goals, ARCCS aims to publish the institutional scientific journal- Journal of Coastal Studies (JCS), aimed for CHED-accreditation in the future. ARCCS shall also serve as a hub for visiting local and international scientists in ASU, thereby fostering local/regional/national/international connectivity and engagement. Furthermore, ARCCS shall play an important role in instruction by providing technical and mentoring support to student research opportunities and experiential instruction.
---
Akeanon Studies Center for Heritage, Diversity and Educational Innovation (ASCHDEI)
This center under the College of Teacher Education serves primarily as the hub for the research plans, programs, projects, and activities of the faculty, staff, and students of the college, and the university as a whole. It focuses on the documentation, preservation, and promotion of the local culture, as well as the creation, discovery, and utilization of educational innovations based on the diversified norms for the advancement of teacher training and learning opportunities to the community it serves.
---
Aklan Research Center for Sustainable Tourism (ARCST)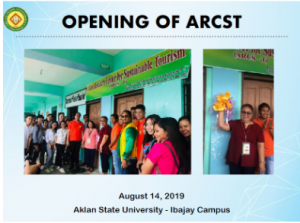 The Aklan Research Center for Sustainable Tourism" or ARCST aims to build sustainable collaborations among related agencies such as the Provincial Government of Aklan, Department of Tourism, other Government Agencies and the industry, other academic and research consortia, and NGOs. 
ARCST serves as a research base which operates through the existing framework of the University Research and Extension units. The designated Center Head manages the administrative operation in accordance to the rules and policies set forth. An Advisory Committee assists in the Center policy mechanism and monitoring.
ARCST serves as a medium for science-based ideas, forward-looking and results-oriented strategies that addresses issues concerning sustainable tourism in the province. The research results can be used in local adaptation planning by local government units and other stakeholders in developing environmentally-conscious and culturally-sensitive tourism practices.
The Center adopts appropriate funding source strategies such as partnership scheme, grant, linkages with other agencies, and roll-over-scheme to sustain its operation and projected expansion. Bridging logistical resources from LGUs, NGAs and NGOs, will sustain the cost in the development of gendered research studies.
---
Aklan Human Kinetics, Sports, and Wellness Research Center (AHKSWeRC)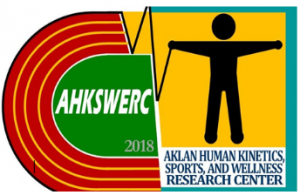 Aklan Human Kinetics, Sports, and Wellness Research Center (AHKSWeRC) aims to provide a central research core that will aid as clearing-house, initiator and coordinating body of research studies related to human kinetics, sports, and wellness in the province of Aklan. AHKSWeRC will serve as source of initiatives, and coordinating body of research studies related to human kinetics, sports, and wellness with similar goals with the College of Human Kinetics of UP Diliman. Develop technologies for the development of knowledge and practical skills for community health promotion, chronic disease prevention, disaster risk reduction, and lifestyle management.  The center would build sustainable research and development collaborations among related agencies such as Provincial Government of Aklan, Philippine Sports Commission, other Government Agencies and the industry, other academic consortia, and NGOs.