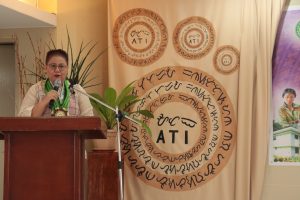 CAFES holds first province-wide Natural Fibers Stakeholders' Forum
To discuss current and future trends for Aklan natural fibers, Aklan State University through the College of Agriculture, Forestry and Environmental Sciences (CAFES) held the first-ever stakeholders' forum on natural fibers on February 15, 2023, at ATI Training Hall, ASU Compound, Banga, Aklan.
The event was in consortium with the Natural Fibers Technology and Resource Center, the Research and Development Services (RDS), and the Extension and Community Services (ECS) of the University.
Dr. Emily M. Arangote, SUC President III, in her inspirational message stressed that the university should strengthen current research and development to boost the production Aklan piña.
Campus Director Dr. Michael T. Ibisate was also present at the event and delivered the welcome remarks.
Some CAFES faculty presented the latest technology developments and innovations in natural fiber production, processing, and utilization.
Dr. Eva R. Orlina, CAFES Dean, presented the overview of the activity.
Meanwhile, Dr. Melba L. Raga-as, Director, of R&D Services, introduced the ASU RDE Paradigm on Natural Fibers. Dr. Evelyn P. Vedasto, Professor VI, showcased the research highlights on the production of piña while Mr. Gene T. Señeris, Instructor I, shared his expertise on abaca production.
The Department of Science and Technology (DOST), Office of the Provincial Agriculturist (OPA), Philippine Fiber Industry Development Authority (PhilFIDA), and the Department of Trade and Industry (DTI) presented their mandates on natural fibers. The different agencies also discussed possible projects and funding that the stakeholders and the university can apply.
Furthermore, research highlights on the processing and marketing of piña were discussed by Ms. Romela F. Valderas, a Master in Rural Development graduate student, while Dr. Margie Y. Sumanga, Associate Professor V, offered her expertise on abaca marketing.
A focus group discussion was conducted in the afternoon to encourage the exchange of ideas and knowledge sharing on the current trends and problems in Aklan's natural fibers.
The participating agencies and stakeholders in the forum were the following: Local Government Unit of Municipalities of Makato, Malinao, Madalag, Libacao, and Tangalan; Bandiola piña weaving; OPA; Agricultural Training Institute; DOST; DTI; Association Kabayan; IBON Multi-Purpose Cooperative; Handicrafts Association Multi-Purpose Cooperatives (HAMPCO); Provincial Agriculture and Fisheries Council (PAPC); PhilFIDA; Association Kabayan; LORRI Agrarian Reform Cooperative; Aklan Piña Man-Tra; and CAFES Faculty and Staff.
The event aimed to address and consider industry players' capacity development, information and knowledge management, enterprise development, and other critical research and extension initiatives.
report from John Mark Francisco, CAFES