Aklan State University conducts its 8th Research and Development Symposium, via Zoom, June 17, 2021.
Twelve researches from different categories are to be presented today, including studies in Agriculture and Water Resources, Education, Socioeconomics, and Culture, and Local Governance and Environmental Management.
Distinguished panelists from University of the Philippines, ISAT-U, WVSU, and DOST-PCAARRD serve as evaluators of the researches to be presented.
Dr. Emily M. Arangote, SUC President III, of ASU delivered a message during the opening program. She commended the RDS under its OIC-Director, Dr. Melba Ragaas, for spearheading the event.
She also congratulated the researchers for pushing on with their studies despite the limitations of this pandemic.
Best Paper Awards will be presented to outstanding researches as adjudged by the expert panel of evaluators.
The activity is aligned with the University's mission to uphold excellence and innovativeness through relevant research, to support the Dr. Arangote's vision for ASU as a leading University in the Asia-Pacific Region.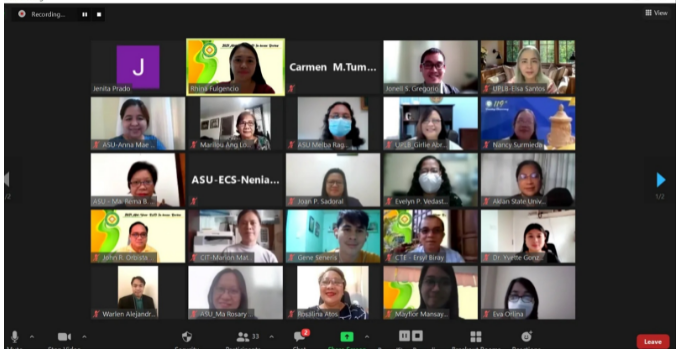 By Jonell S. Gregorio | Information Officer, ASU-Banga