ASU ranks 95th, 11 faculty make it in 2023 AD Scientific Ranking PH
The Aklan State University (ASU) ranked 95th among the 264 universities in the Philippines in the 2023 AD Scientific Index (ADSI) Philippine University/Institution Ranking. ASU is ranked 6634 in Asia and 14233 in the world, with 11 best scientists listed. The university has 3 scientists in Social Sciences who were ranked among the World's Top 70%-90% Scientists, and one in Engineering and Technology who was ranked among the World's Top 90% Scientists.
Prof. Ronald J. Maliao of ASU New Washington topped the 11 ASU listed scientists with 10 publications and 548 citations. Other ADSI-recognized ASU scientists are Prof. Julie Ann A. Salido, Ms. Jean Rose H. Maquirang, Mr. Jahfet N. Nabayra, Dr. Jolitte A. Villaruz, Prof. Dennis M. Barrios, Dr. Arvin Kim A. Arnilla, Dr. Jeffrey A. Clarin, Dr. Ersyl T. Biray, Dr. Michael T. Ibisate, and Dr. Roberto L. Saladar.
Dr. Emily M. Arangote, ASU President, takes pride of this achievement under her leadership, and extends her warm "… congratulations [to the ASU community] for rowing the boat with [her]".
The AD (Alpe-Doger) Scientific Index is a ranking and analysis system based on the scientific performance and the added value of the scientific productivity of individual scientists in agriculture and forestry, arts, business and management, education, engineering and technology, and social sciences, among others. It provides rankings of institutions based on the scientific characteristics of affiliated scientists. Its ranking is based on the principle of including only meritorious scientists based on Google Scholar's total h-index scores.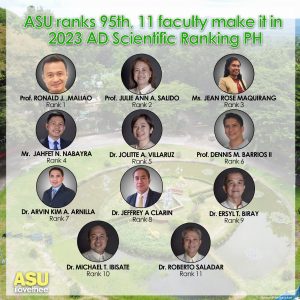 __________________
Congratulations to ASU and her 11 Best Scientists !!!
Article source: ASU – College of Teacher Education – Banga Campus FB Page (https://www.facebook.com/asuctebanga/posts/681315973543275)