Oh God, bless my Alma Mater,
ASU, beloved;
To Thee O Lord, I pray.
ASU, I love thee,
Thy solemn pledge, I vow eternally;
Thy hallowed halls, thy verdant fields
Are treasures in my memory.
Upon this land forever reigns
My Alma Mater, queen divine--
Shine on, Shine on,
Thy gift of heaven
Shine… Shine on,
(Finale) O God, bless my Alma Mater…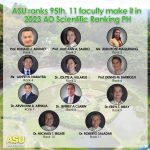 ASU ranks 95th, 11 faculty make it in 2023 AD Scientific Ranking PH The Aklan State University (ASU) ranked 95th among the 264 universities in
Read More »
COPYRIGHT © 2021 Aklan State University. ALL RIGHTS RESERVED.