Supervises the offices of Registrar in the University and introduce systems that would promote the efficiency and effectiveness of the office.
An Excerpt from The Aklan State University Code, Governance and Administration, Article 43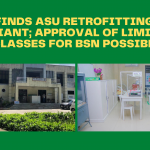 Resource Speakers from Anti-Red Tape Authority (ARTA): Atty. Karen Tatiana Ramirez Attorney III Legal and Public Assistance Office, ARTA Topic: Briefing on RA 11032 Mr.
Read More »
COPYRIGHT © 2021 Aklan State University. ALL RIGHTS RESERVED.