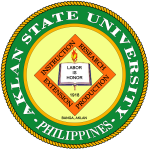 The Aklan State University is composed of five campuses strategically located in the different parts of Aklan. Each campus contributes to the attainment of the vision, mission, goals and objectives of the university. Dedicated to provide quality education to its students, the University ensures that its curricular offerings suit well to the existing needs of the students as well as the global market.
The main campus in Banga, Aklan consists of five granting units, namely: the College of Agriculture, Forestry and Environmental Sciences (CAFES), School of Arts and Sciences (SAS), School of Veterinary Medicine (SVM), College of Teacher Education (CTE) and School of Management Sciences (SMS).
The College of Industrial Technology (CIT) is located in Kalibo, the provincial capital, while the College of Fisheries and Marine Sciences (CFMS) is in New Washington. The other units, the College of Hospitality and Rural Resource Management (CHARRM) and the Teacher Education Center (TEC) are situated in Ibajay and Makato, respectively.
The University is recognized not only as a portal of learning, but also as an active leader in research and extension. Its faculty researchers have made significant contributions in various fields, particularly in agriculture. Similarly, its extension projects have greatly benefited its adopted communities in Aklan and neighboring provinces.
These efforts stem from the firm belief of the University that learning takes place both inside and outside of the formal classroom. Hence, the students, while learning theoretical knowledge in school are exposed to the realities of life. They are encouraged to take part in the University's research and extension activities.
The University strongly believes that there is unity in diversity. Although it is composed of many campuses, it is bound by one common mission of achieving quality education and producing globally competitive graduates.
True to its four functions; instruction, research, extension and production – the University never ceases to work towards achieving it vision of becoming an Academic Pillar of Excellence (APEx) for sustainable development.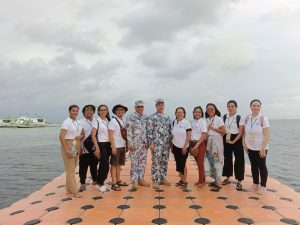 READ & LOOK: Final Testing of SEAWAVeS Project Prof. Julie Ann Salido of ASU-Kalibo presented the final phase of the Design and Development of a